TAPS Act
H.R. 838, the Threat Assessment, Prevention, and Safety (TAPS) Act

Whether it's a shooting, stabbing, weaponized vehicle, or bombing, mass casualty events are occurring too often. These horrific tragedies are impacting our nation indiscriminately. Americans want a solution – I believe we've found one.

For decades, a process to identify, investigate, assess, and mitigate threats has been in place to counter targeted violence. Pioneered by the U.S. Secret Service, behavioral threat assessment and management has proven successful in protecting our presidents and foreign dignitaries. If this process works to protect the president, elected officials, foreign dignitaries, and even celebrities, why aren't we using it to protect our children and local communities?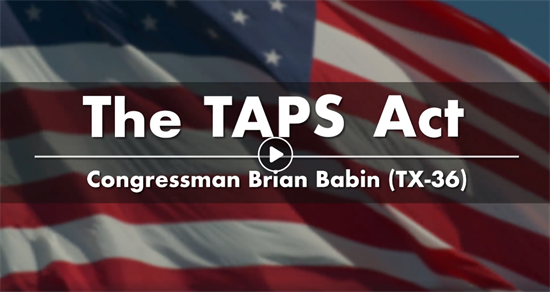 If you are having trouble viewing the video, please click here.

The TAPS Act:

• Will identify a behavioral threat assessment and management process that can be adapted and used across the nation while recognizing the unique needs of different communities

• Will provide States the training, resources, and support needed to stand up community-based, multidisciplinary behavioral threat assessment and management units

• Recognizes that the behavioral threat assessment and management concept should become part of the culture and fabric of contemporary law enforcement

• Urges that this is a matter of national security – if we act now and work together, we can save lives


To view the one pager, please click here.

To view bill text, please click here.

Go through the bill section-by-section by clicking here.

TAPS Act Media Mentions:












To join our effort or for more information, click below: