Press Releases
Babin Announces 2023 Congressional Art Competition for Area High School Students
Intent to Participate Application Due by Wednesday, February 8, 2023
Washington, January 27, 2023
WASHINGTON, DC – U.S. Congressman Brian Babin (TX-36) will once again host a Congressional Art Competition in 2023. Students in grades 9-12 wishing to participate must reside (check here) within the 36th Congressional District of Texas.
"Ever since our brave forebears declared independence, the United States has been a beacon of liberty, hope, and opportunity," said Babin. "America is regarded worldwide as the land where success is attainable for anyone willing to work for it. From free people to free speech to free markets – freedom rings loudly here. Our freedom is the core of the 'American Dream,' and it never fails to inspire old and young alike. For this year's Congressional Art Competition, I'm eager to see your interpretation of what freedom means to you."
All entries must follow the theme: "Let Freedom Ring." Artwork must adhere to all rules outlined by the 2023 Rules and Regulations of the Congressional Art Competition set by the U.S. House of Representatives and the Congressional Institute.
Teachers must declare the number of students who intend to participate by submitting the Intent to Participate Form online by 5:00 PM CST on Wednesday, February 8, 2023.
Teachers must also email a high-resolution photograph of all participating artwork to tx36artcompetition@gmail.com by 5:00 PM CST on Friday, March 24, 2023. Additionally, teachers must fill out and attach a scanned copy of the Student Information and Release Form.
Participating students, family members, and teachers are invited to an awards reception and presentation in Beaumont, Texas, at a date to be announced. At that time, the winning entry will be announced.
Once chosen, the winning artwork will represent Texas' 36th Congressional District for one year in an exhibit in the U.S. Capitol in Washington, DC. The second and third place entries will be displayed for one year in Congressman Babin's Washington and District offices, respectively.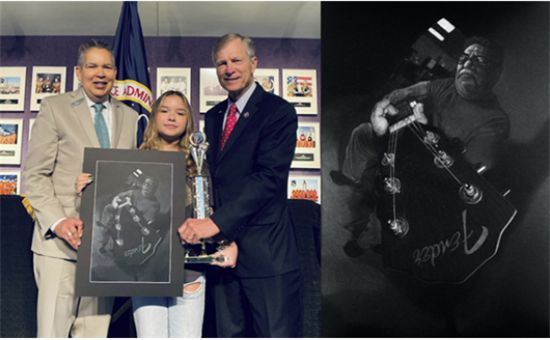 2022 Congressional Art Competition Winner
Mia Gomez
"A Familiar Tune"
Pasadena High School
For more information, please click here or contact Will Carter, Senior Regional Director of Community Relations, at 832-780-0966 or by email at tx36artcompetition@gmail.com.
###