Press Releases
House Passes Babin's Alabama-Coushatta Fairness Bill
Washington, July 25, 2019
WASHINGTON, D.C. – Congressman Brian Babin (TX-36) issued the following statement after the House of Representatives unanimously passed the Ysleta del Sur Pueblo and Alabama-Coushatta Tribes of Texas Equal and Fair Opportunity Settlement Act (H.R. 759) on Wednesday evening.
"We have worked tirelessly for more than a year to pass H.R. 759 in the House of Representatives," said Babin. "I'm proud to have sponsored this piece of legislation that will put to rest years of uncertainty and turmoil experienced by the Alabama-Coushatta Indian Tribe of Texas. This has always been a fairness issue, plain and simple. The Ysleta del Sur Pueblo and Alabama-Coushatta deserve to have the same opportunity to run a Class II gaming facility as the Kickapoo – who have had this right for decades. The Naskila Gaming facility provides hundreds of jobs and adds $140 million to the local economy each year. I am proud of this accomplishment, and am looking forward to working with my colleagues in the U.S. Senate to get this bill signed into law."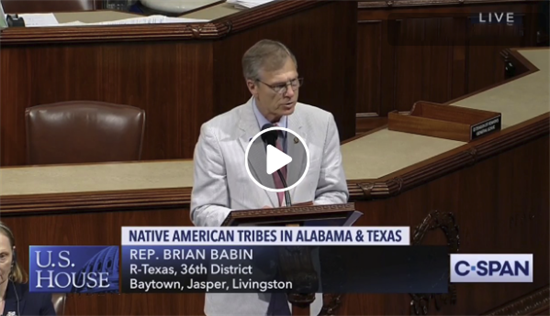 To watch Rep. Babin's speech on the House Floor, please click here.