(Hell!) No to Impeachment
The Democrat majority shamefully made history Wednesday night by ramming through the only partisan impeachment vote our country has ever seen. I am proud to say that I voted (Hell!) No on both articles!

I look forward to watching this shameful charade die in the U.S. Senate so that Congress can finally get back to the work of the American people. ‬
‪
Read full press release below. ‬

Speaking Before Impeachment Vote
Moments before the impeachment vote, I took to the House floor to condemn House Democrats' reprehensible articles of impeachment against President Donald Trump. Watch my speech below!

New Cartel Tunnel Found in Arizona
Border Security Officials discovered another tunnel operated by dangerous cartels coming from Mexico into Arizona, seizing hundreds of pounds of deadly illegal drugs. If the American people knew just how much they were being victimized by illegal immigration, they would demand the Democrats help the President secure the southern border immediately.

The USMCA Finally Passes the House
After more than a year of waiting, the House has finally passed the U.S.-Mexico-Canada Agreement (USMCA). This is not only a major victory for our country, but the American worker! By creating more jobs, improving trade, and generating $68.2 billion in economic growth, the USMCA will make America a more prosperous and financially secure nation for decades to come.

Babin Hosts Lucas Lowe Memorial Post Office Dedication
On Monday, December 16, I joined the United States Postal Service in hosting countless community and family members, local dignitaries, and top military officials for a ceremony renaming the Post Office in Hardin, Texas after a local hero, Chief Warrant Officer II Lucas Maurice Lowe.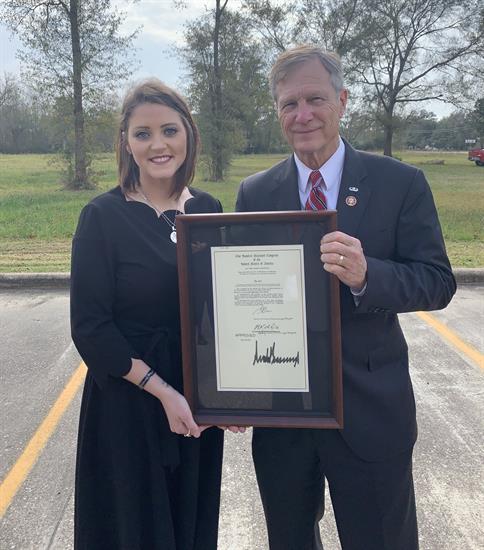 I am pictured above with Lucas' widow, Kami Lowe.
It was special to be able to gather together just a few days short of the third anniversary of Lucas' passing. He died in the service of the Texas Army National Guard, and looking around me on Monday, it was evident how much of an impression he made upon his family, community, and brothers and sisters in uniform.
I consider it a distinct privilege to have been able to honor a man like Lucas Lowe, who was as much an irreplaceable part of Southeast Texas as that very post office.

Read full press release below.





President Trump's Letter to Speaker Pelosi
If you have not taken the time to read this letter – do so. President Trump highlights every lie and fraudulent claim behind House Democrats' articles of impeachment. Wednesday was a very dark day in American history.

"By proceeding with your invalid impeachment, you are violating your oaths of office, you are breaking your allegiance to the Constitution, and you are declaring open war on American Democracy."

Pelosi's Plan on Drug Pricing Would Hamper Lifesaving Medical Innovations
Bipartisanship continues to be traded for political games. Heavy-handed government interventions like Speaker Pelosi's H.R. 3, the Lower Drug Costs Now Act, will cost American patients access to lifesaving drugs and halt innovation. Read my op-ed featured in the Daily Signal below!

Orange Office Grand Opening
We were finally able to have the official grand opening of our new district office in Orange on Monday.

This new office and location (at the new Orange City Hall) offers easier access to the building as well as a significant amount of additional parking. Thanks to all who stopped by – especially my fellow members of the Lions Club.

Photos of the Week
It was a busy week in Washington, but not too busy to miss welcoming the Estupinan Family from Pasadena (first photo) and the VanCleave Family from Beach City (second photo) to our nation's capital.

I enjoyed visiting with both of these families before their Capitol tours began on Thursday.

Joining Fox & Friends First
Earlier this week, I joined Fox & Friends First to discuss impeachment, Inspector General Horowitz's report, President Trump's letter to Speaker Pelosi, and more. Listen below!

Receiving an Update at the Johnson Space Center
Following the anomaly that took place during the uncrewed test flight of the starliner commercial crew vehicle Friday morning, I received an update from the JSC Center Director, Mark Geyer, about the status of the mission.

I am proud of the work that Boeing and NASA have done to ensure they gather the most information possible, and I look forward to hearing the final results of the flight.

Thousands Lay Wreaths on Veterans Tombs in Arlington
It is always heartwarming to see the thousands who volunteer each year to lay wreaths on the tombs of the more than 400,000 veterans buried at Arlington National Cemetery.

During such an unprecedented time in our nation's history, it is inspiring to know that we do not need to share the same political views to love America and honor those who have defended it over the years.
Eating Italian at Frenchie's
While traveling on Friday, I had the opportunity to dine at Frenchie's Italian Restaurant in Clear Lake.
They have great food and fantastic people.