The Facts and Numbers Do Not Lie
I'm not sure who the administration thinks they're fooling by saying "we've got this under control."

The facts and numbers don't lie – we've already surpassed the total apprehension numbers from all of 2018. Read more of my thoughts below.

There Is a Humanitarian Disaster Occurring at the Southern Border
No Democrat should claim they care about migrants when they know that every one of these illegal aliens paid, was trafficked by, or works for the cartels.

If they truly cared for their wellbeing, they'd work to disincentivize illegal immigration and secure the border.

America Will Always Support Taiwan
As Biden meets with the Chinese Communist Party (CCP) this week, it's vital he not forget the truth: The CCP's an egregious offender of human rights and can never be trusted.

He must make it clear that America's support for Taiwan, one of our strongest allies, is permanent.

Could This Majority Be Any More Out of Touch with Reality?
Could this majority be any more out of touch with reality?

We are in the middle of a historic border crisis. Instead of working to stop it, House Democrats would rather vote to grant amnesty to millions of illegal aliens?!

Americans continue to come last.

Welcoming TX-36 Residents to Washington
It was a privilege to welcome the Murphree Family from Dayton to our nation's capital this week.

If you're planning a trip to Washington, DC, please don't hesitate to reach out to my office!
Denying the Southern Border Crisis Will Not Make It Disappear
Denying the crisis on our southern border won't magically make it disappear. Look at the facts – the numbers are growing every day. Our border is overwhelmed and under-equipped thanks to Biden's policies.

What will it take for him to take some ownership and do something?!

Congress Must Act to Repeal Section 230
For too long, Big Tech has been allowed to break our laws with zero consequences. Congress must act now to roll back Section 230, so that these platforms are finally held accountable for their actions. This bill is a much-needed first step. Read more by clicking the link below.

Pelosi Is Lying
Pelosi is lying.

Trump spent four years fixing the broken system in place – without Democrat help – and successfully built the wall, updated technology, and enacted policies that helped secure the border and save lives.

Biden's brought us back to square one.

Joining Wake Up America on Newsmax TV
Cartels are the only beneficiaries from our unstable and unsecured U.S.-Mexico border. They're getting rich while everyone else suffers.

Even our neighbor, President Lopez Obrador of Mexico, has deemed Biden the "migrant president." His actions not only threaten America but other nations as well.

Congratulating NASA
Congratulations to NASA on the successful "Green Run" hot fire test of the SLS' core stage. This powerful rocket will soon return American astronauts to the Moon, and eventually Mars!

Calling on Texas' Attorney General to File a Lawsuit Against the Biden Administration
The disaster on our southern border could've been avoided, but unfortunately Biden cares more about politics than he does the safety of Americans or migrants.

My Texas colleagues and I call on the Texas Attorney General to file a lawsuit against this reckless administration. Lives are at stake.

Babin Announces 2021 Congressional Art Competition for Area High School Students
It's time to sign up for the 2021 Congressional Art Competition! All students in grades 9-12 residing in the 36th Congressional District are eligible to participate.

The first place winner will have their artwork displayed in the U.S. Capitol Building and receive round-trip airfare and accommodations (for two) to attend the award ceremony in Washington, DC! For more information or to sign up, please click the link below.

Please note that the deadline to submit your intent to participate application is today

, March 21, 2021

.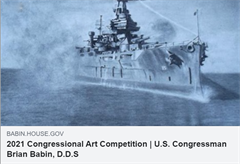 For more information or to sign up, please click here.
COVID-19 Vaccine Locations
If you're interested in receiving a COVID-19 vaccine and need to locate the nearest vaccine provider, please click the link below.

TDEM's COVID-19 Testing Information
The Texas Division of Emergency Management (TDEM) released helpful information for those needing to get tested for COVID-19. Follow the instructions below.

Current COVID-19 Numbers in the U.S.
As of March 20, 2021, the current number of confirmed COVID-19 cases and deaths in the U.S. are as follows:

Total Cases: 29,552,459
Total Deaths: 538,261

These numbers have most likely changed as more tests are becoming available each day. You can keep track on the CDC's webpage below.

Stay Tuned to the CDC's Website
Remember you can always find current information and guidance on COVID-19 by visiting the CDC's regularly updated website.

Stay Updated on COVID-19 Cases in Texas
To view the latest number of confirmed COVID-19 cases in Texas or get answers to Texas-specific questions or concerns, please visit the Texas Department of State Health Services' website below.

You can also contact them by calling (877) 570-9779 or by emailing coronavirus@dshs.texas.gov.