Babin Reacts to Greenpeace Protests on Fred Hartman Bridge
As the Greenpeace USA protests were occurring on the Fred Hartman bridge on Thursday, resulting in part of the Houston Ship Channel being closed, I was disturbed by reports that the Harris County Sheriff's Office (HCSO) were refusing to enforce the law and instead wait out 24 hours of this illegal activity – which was simply unacceptable. These protesters should have been removed immediately. When law enforcement refuses to enforce the law there is anarchy, the very definition of lawlessness.

In addition to the danger they posed to themselves and others by blocking ship traffic on the ship channel and severely restricting vehicle traffic on the bridge, they were costing Texas job creators millions of dollars every second the protest continued. Allowing such a dangerous stunt to carry on under the auspice of free speech only encourages more illegal activity in the future.

I am glad local law enforcement finally stepped in to make the necessary arrests and open the ship channel back up to resume commerce.

Supreme Court's Decision on Trump Administration's Asylum Policy
The U.S. Supreme Court has given the green light on policy that will drastically reduce the number of asylum requests our overflowing immigration courts receive both daily and monthly.

Currently back-logged with more than 400,000 asylum requests – U.S. immigration courts cannot process them fast enough. There is no reason why those seeking asylum should not request it in the first country they arrive in. While this policy will lessen the amount of illegal aliens crossing into our country, it will also allow our courts to catch up.
House Democrats Attempt to Cripple America's Energy Independence
First week back in session and already House Democrats have made a direct attack to cripple America's growing energy independence. Several pieces of legislation passed in the House this week demonstrating that the Democrat majority would rather rely on Russia and the Middle East for our nation's energy needs instead of using the resources right here in our back yard.

Bills H.R. 1941, H.R. 205, and H.R. 1146 would impede our efforts in offshore drilling, cost the U.S. millions of jobs, and take domestic energy resources off the table. These bills threaten our national security, our strong economy, and weaken America's industrial independence.
Historic Employment Gains
It is interesting how great news like this does not get much attention from the mainstream media. As our economy continues to flourish, millions are making their way back into the workforce. Americans from all backgrounds and walks of life are benefiting from the pro-growth Conservative policies put in place under this Administration.

Andrew McCabe to be Charged?
Well it's official, U.S. Attorney, Jessie Liu, has recommended pursuing criminal charges against former Deputy FBI Director (and CNN analyst) Andrew McCabe for lying to investigators. Hopefully, this is just the start of bringing those accountable for abusing their positions and breaking the law to target President Trump to justice.

Border Apprehensions Have Dropped Thanks to President Trump
The agreements with Mexico and policies i
mplemented by President Trump are the ONLY reason apprehensions of illegal aliens have dropped over the last two months.

Although we are seeing lower numbers – the crisis at the southern border has not ended. So far this year, U.S. Border Patrol Agents have apprehended more than 800,000 illegal aliens crossing our southern border. Mexico is keeping their promises, but the fight in Congress for border security still wages on.

Congress has yet to fix any of the root causes of the border crisis.
House Democrats have offered ZERO solutions and continue to push a far-left, open borders agenda that would encourage even more migrants to make the dangerous trek to our border.
Remembering the 18th Anniversary of September 11
On the solemn morning of September 11, I had the privilege of visiting with General Jack Keane, U.S. Army ret., about his experience at the Pentagon on that fateful day as well as his participation and activities in the following military operations in Afghanistan in the War on Terrorism – which continues to this very day.





Visiting at the White House
I had a great visit with President Trump and First Lady Melania Trump at the White House last Saturday night.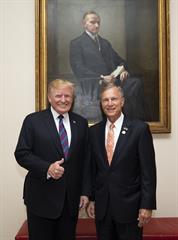 Photo taken by the official White House photographer.
I had a chance to bend the President's ear on topics like immigration as well as other pressing issues currently facing our nation. They are always wonderful hosts!

Republicans Hold Hearing on the Born Alive Abortion Survivors Act
This should never be an argument, but babies born alive after a failed abortion deserve medical care. The Democrat majority has refused to hold a hearing on the Born Alive Abortion Survivors Act (H.R. 962) for months. On Tuesday, House Republicans held their own. We spoke with expert witnesses on abortion procedures and statistics.

We must stand up for those who cannot yet defend themselves. This majority needs to come to their senses and stop embracing infanticide.
Congress Must Pass the USMCA
Standing beside me are several hard-working rice farmers in Liberty and Chambers County. Congress must pass the USMCA trade agreement to ensure solid markets and price assurance. These are the folks that put food on America's tables, and they, along with the more than 12 million other jobs that depend on trade with Canada and Mexico, deserve to have this important bill passed.

The Impeachment Charade Continues
The American people merit more than what this Democrat majority has given them – which is not much. They steadily choose to spend their time and resources on an absolute CHARADE, while meaningful legislation gets ignored. They continue to push partisan ideas that stand no chance rather than work with Republicans to pass bills that will actually improve the lives of everyday Americans. The majority of America do not want impeachment, yet they keep at it.

The Consequences of Open Borders and Sanctuary Cities
Reading story after story about criminal illegal aliens murdering people, most being innocent American citizens, makes me sick. These senseless deaths could have been prevented if our southern border was secured and sanctuary cities were held accountable for their lawlessness.

Sadly, House Democrats would rather waste time chasing their excessive vendetta against the President than ensuring that these types of monsters NEVER step foot in our country in the first place.
Congress is Capable of Working Together to Prevent Mass Violence
While often drowned out by partisan rhetoric, Congress IS actually capable of working together to prevent mass violence in all of our communities. The TAPS Act (H.R. 838) is a great example of that with 140 equally bipartisan cosponsors. Read my op-ed featured in USA Today below.

Meeting with the Michael J. Fox Foundation
I had the opportunity to meet with members of the Michael J. Fox Foundation earlier this week. I greatly appreciate the important work this foundation does to better our research of Parkinson's disease.

Remembering the 18th Anniversary of September 11 (cont'd)
We must never forget what happened in that cowardly act 18 years ago, including those innocent victims who lost their lives and the courageous first responders who ran into the chaos and rubble to save their fellow Americans.


Each year that passes, we must remain vigilant and remember that there is still a mortal enemy out there that wishes to destroy America and the freedoms we stand for. I greatly appreciate the service of General Keane and all of those involved during and after 9/11 – they are true American heroes.