House Border Security Caucus Meets to Discuss Our Unsecured Southern Border
Thank you to former DHS Acting Secretary, Chad Wolf, for joining the Border Security Caucus to talk about the true impact of Biden's border crisis.

With everything happening on our southern border, we would be in a much better place now if he were leading us!

Biden Is 100% Responsible for the Raging Border Crisis
The crisis raging on our border is the consequence of bad decisions from a weak administration who refuse to prioritize the security of America.

Feb. 2020: 36,287 illegal alien apprehensions.

Feb. 2021: 100,441 illegal alien apprehensions.

That's a 173% increase – thanks to Biden.

CBP Arrested 1,600 Illegal Aliens in Just Three days
In just three days, 1,600 illegal aliens were arrested in a single sector on the southern border yet the White House says there's no crisis?

Don't believe their lies.

Sorry Biden, there is a crisis and newsflash: your policies caused it.

Taxpayer Dollars Continue to Be Wasted
Hundreds of millions of taxpayer dollars continue to be wasted by keeping National Guard troops around the U.S. Capitol for no reason.

Send them home to their families OR to the southern border where they're actually needed.

When Will Joe Biden Step Up and Lead?
It's a sad day for this country when the President has a lot to say about keeping schools closed and cancelling Dr. Seuss, but is silent about a very real and very dangerous border crisis.

This is a national security and humanitarian disaster.

When will Joe Biden step up and lead?

Even Cartels Are Overwhelmed by the Border Crisis
Even the cartels are overwhelmed by the border crisis. Let that sink in.

The cartels control the southern border and every single person who crosses it illegally (and frankly, many who cross it legally too).

Babin Announces 2021 Congressional Art Competition for Area High School Students
It's time to sign up for the 2021 Congressional Art Competition! All students in grades 9-12 residing in the 36th Congressional District are eligible to participate.

The first place winner will have their artwork displayed in the U.S. Capitol Building and receive round-trip airfare and accommodations (for two) to attend the award ceremony in Washington, DC! For more information or to sign up, please click the link below.

Please note that the deadline to submit your intent to participate application is

Sunday, March 20, 2021

.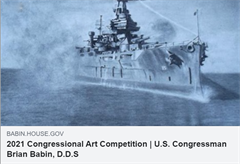 For more information or to sign up, please click here.
COVID-19 Vaccine Locations
If you're interested in receiving a COVID-19 vaccine and need to locate the nearest vaccine provider, please click the link below.

TDEM's COVID-19 Testing Information
The Texas Division of Emergency Management (TDEM) released helpful information for those needing to get tested for COVID-19. Follow the instructions below.

Current COVID-19 Numbers in the U.S.
As of March 13, 2021, the current number of confirmed COVID-19 cases and deaths in the U.S. are as follows:

Total Cases: 29,176,658
Total Deaths: 530,693

These numbers have most likely changed as more tests are becoming available each day. You can keep track on the CDC's webpage below.

Stay Tuned to the CDC's Website
Remember you can always find current information and guidance on COVID-19 by visiting the CDC's regularly updated website.

Stay Updated on COVID-19 Cases in Texas
To view the latest number of confirmed COVID-19 cases in Texas or get answers to Texas-specific questions or concerns, please visit the Texas Department of State Health Services' website below.

You can also contact them by calling (877) 570-9779 or by emailing coronavirus@dshs.texas.gov.