Babin Reacts to POTUS Signing Federal Disaster Declaration for Southeast Texas
I applaud President Trump for swiftly signing the Federal Disaster Declaration request, sent by Governor Abbott earlier this week, so those impacted by the severe flooding brought by Tropical Storm Imelda are now able to receive individual assistance. As many once again travel down the road to recovery, they will now have access to the resources necessary to make this journey as quickly as possible.

To view Governor Greg Abbott's press release, please click here.

To register for FEMA Disaster Assistance, follow the information listed on the flyer below.

The Green New Deal Nightmare
My colleague, Congressman Sam Graves (MO-06), wrote a great Op-Ed describing why the Green New Deal would be absolutely disastrous for our nation and the American people. With a price tag of $93 trillion over the next decade and MILLIONS of jobs lost, I agree that this terrible proposal is like, "the maniac in a bad horror movie who, beyond any logic, just keeps coming back."

We must continue to reject the unrealistic and extremely radical Green New Deal that, if implemented, will bankrupt our country and the hard-working men and women who live here.
Educating Our Youth About Space Exploration
Teaching future generations about the importance of space exploration is vital for the continued strength of our space program.
It is exciting to think that these young girls and boys could play a role in America's push outward towards Mars and beyond!

A special thanks to American astronaut Drew Fuestel (pictured above) for stopping in to speak with students from St. Paul's Episcopal School during their visit to NASA's Johnson Space Center on Wednesday.
Democrats' Recklessly Rush to Impeach President Trump
As House Democrats continue to fast-track their sham impeachment proceedings against our President, I stumbled across an interesting 1998 quote from Speaker Nancy Pelosi regarding the impeachment of then-President Bill Clinton:

"We are here today because the Republicans in the House are paralyzed with hatred of President Clinton. And until the Republicans free themselves of this hatred, our country will suffer."

I could not help but think about how easily I could change "Republicans" to "Democrats" and "President Clinton" to "President Trump" and it fit perfectly with the current situation going on in the House of Representatives. The radical shift we have seen in the Democratic Party is alarming to say the least.

Democrat committee chairs are now limiting Republican participation in interviews, showing just how partisan this entire inquiry really is. It is disgraceful.

Visiting the Toledo Bend Dam
I have the privilege of representing four dams in the 36th Congressional District: Toledo Bend, Dam B, Sam Rayburn, and Lake Livingston.

Earlier this week, I toured the dam at Toledo Bend to view the progress and work still being done on its spillway in order to repair the damage from the 2016 flood.

Thanks to the Toledo Bend Division Administrator, Don Iles (pictured below on left), and Division Manager, Steven Dougharty (pictured below on right), for taking the time to show me around.

Reminder: Extended Deadline for U.S. Service Academy Applications
ATTENTION: With many areas across our district recovering from Imelda, we have decided to extend our U.S. Service Academy application deadline to Tuesday, October 8. If you have any questions, please contact my Woodville office at (409)331-8066.





Potluck Dinner in Toledo Bend
If you want a delicious meal and great conversation, the monthly potluck dinner at the Toledo Bend Community Center is the place to go.

I always look forward to attending this event, when I am able, to provide an update on the current happenings in Washington. This community is full of wonderful people who love our country deeply. It is always a privilege to be in the midst of such a community-driven and patriotic crowd!

On the Radio
I had a great discussion with Patsy Dickerson, the Station Manager and DJ at Jasper's KTXJ radio station, on air this week. Thanks for having me on the show!

SK's AMPAC Fine Chemicals Facility
On Wednesday afternoon, I visited SK's AMPAC Fine Chemicals site in La Porte.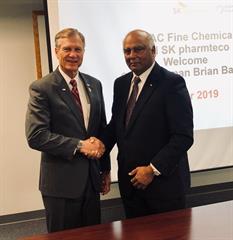 Pictured L to R: Myself and CEO of SK Pharmteco, Dr. Aslam Malik.
I was pleased to learn how the Tax Cuts & Jobs Act has allowed SK to continue investing in their operations, adding highly-skilled pharma jobs in the Houston area, and quality control in drug manufacturing.

Enjoying Friday Night Football
There is nothing like Friday night football in Texas.

It was a pleasure to conduct the coin toss for the match between Woodville and Warren on Friday.

Both teams played extremely hard and competed until the very last second!
ICYMI:
Damage Assessment Surveys
If you reside in Orange, Hardin, Chambers, Harris, or Liberty Counties, received damage from Imelda, and have NOT completed a damage assessment survey – please visit the appropriate link below. These surveys help your county assess and identify damages and will guide initial recovery efforts to the most impacted areas. Please share this post with your neighbors, to ensure they are registered.

•Orange County: http://bit.ly/OrangeDamageSurvey

•Hardin County: Email to disaster@co.hardin.tx.us

•Chambers County: http://bit.ly/ChambersDamageSurvey

•Harris County: http://bit.ly/HarrisDamageSurvey

•Liberty County: Email to LCOEMdamages@gmail.com or call 936-334-3219

Record Immigration Numbers
U.S. Customs and Border Patrol apprehended 851,000 illegal aliens crossing our southern border in fiscal year 2019 – marking the highest number of arrests in more than a decade. Although apprehension numbers have dropped over the last couple of months, there are still too many illegal aliens breaking our laws to cross into our country. We must secure our nation's borders!

Touring Koppers in Jasper
Koppers in Jasper, constructed in 1964, manufactures Creosol, chromated copper arsenate (CCA) poles, and other treated wood products.

Producing approximately 120,000 poles annually, this facility is one of the largest utility pole manufacturers in the U.S.

Historic-low Unemployment
Unemployment is once again at the lowest it has been in 50 years! America's economy continues to flourish thanks to Republican pro-growth policies and the leadership of President Trump.