Rep. Babin Takes Aerial Tour of Southeast Texas Coastline


Discusses Coastal Barrier Protection System
This week, the Houston Police Department hosted me and Rep. Randy Weber on an aerial tour of the Southeast Texas coast. Nearly one-third of our states' $1 trillion economy has a direct connection to this area, and projects like the Coastal Spine hurricane barrier will protect lives, property and businesses no matter what comes our way.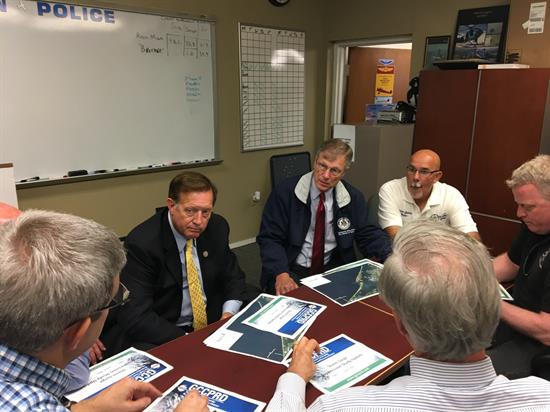 To view more pictures from the tour, please click here.

Protecting this area isn't just good for Texas homeowners and businesses – it's a national priority. Our region is the home plate for America's domestic energy production, and by taking proactive steps now to mitigate the damage from a storm we can avoid the much more costly and disruptive process that we experienced in the aftermath of hurricanes Katrina and Rita.
Getting these projects underway is one of my top priorities in Congress, and with President Donald J. Trump and other administration officials committed to cutting through the red tape and regulatory burdens, we are closer than ever to getting it done.




Deer Park Veteran's Advisory Council Meeting
On Thursday, we brought together our Veteran's Advisory Council for another productive meeting on how we can better care for our veterans. It is always great to hear firsthand from local veterans, service organizations, VA officials, Texas Veterans Commission and others about their concerns and solutions to the many challenges and opportunities facing our nation's veterans and their families. Thank you to all those who participated in this very important discussion. To view more pictures from the event, please
click here
.
Meeting With Texas 36 Constituents
Enjoyed meeting with constituents Carolyn Brown and her daughter Jennifer Brown O'Keefe in our Woodville District Office to discuss health care issues and other topics.
Met with Tyler County Space Congressional Advisory Council students Nathan Vaughn from Colmesneil, Juston Freeman from Spurger, Brooke Byley from Woodville, Jasmin, Manzano from Warren and Ashlyn Overstreet from Chester.