1. WHEN IS THE DEADLINE TO FILE FOR FEMA
INDIVIDUAL ASSISTANCE AND HOW DO I APPLY?
The deadline is Oct. 24, 2017.
To apply, visit
www.disasterassistance.gov
or call 1-800-621-3362. This is the first step in receiving assistance.
2. WHAT IF I MISS THE OCT.24,2017 DEADLINE?
You will be ineligible to receive assistance. It is critical that everyone who may be eligible for assistance apply by the Oct. 24th deadline.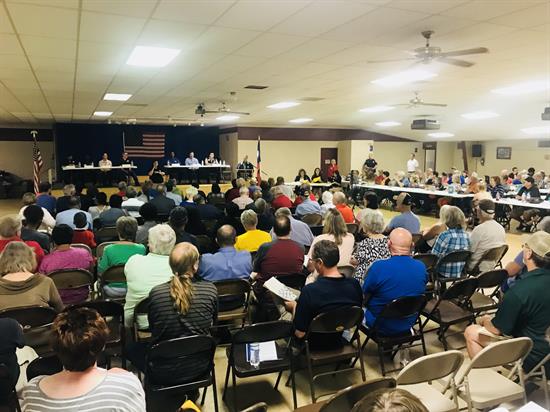 Over 500 residents attend Rep. Babin's town hall meeting in Orange to get their questions answered about disaster assistance.
3. CAN I APPLY FOR DISASTER RELATED
UNEMPLOYMENT ASSISTANCE?
Yes, apply through Texas Workforce Center's website at
twc.state.tx.us/jobseekers/disaster-unemployment-assistance
or by calling 800-939-6631. The deadline to apply for disaster related
unemployment assistance through the State of Texas is Oct. 31, 2017.
4. IF FEMA DENIED MY APPLICATION FOR FEMA
DISASTER ASSISTANCE,MAY I APPEAL?
Yes, the denial may be due to a simple error or a more substantial reason. The denial response you received from FEMA should have included specific instructions on how you may appeal FEMA's denial. Importantly, you must appeal by the deadline included in your FEMA response.
5. IF I DON'T AGREE WITH THE FEMA INSPECTOR'S
DECISION REGARDING DAMAGETO MY HOMEAND
PROPERTY, MAY I APPEAL AND HOW DO I DO SO?
Yes, you may appeal FEMA's decision if you believe it is in
error. Every applicant has the right to appeal. Be sure to provide
as many supporting documents and pictures as possible. The
notice you received from FEMA should have provided all of the
information you need to file an appeal. Importantly, you must
appeal by the deadline included in your FEMA response.
6. WHY HASN'TAN INSPECTOR BEEN OUTTO MYHOME?
FEMA advises that on average it is taking about 20-40 days
from the time of filing with FEMA until you receive a FEMA
inspection of your property. Though some inspections may
take longer, I have personally requested that FEMA provide
more inspectors to speed up the process and place additional
inspectors on the job to cut wait times.
7. WHY DO DIFFERENT PEOPLE GET DIFFERENT
AMOUNTS OF MONEY FROM FEMA?
There are many factors used by FEMA to determine the amount of
assistance FEMA provides, including family size, use of bedrooms and
extent of damage among others. Remember, if you do not agree with
FEMA's assessment, you have every right to appeal that decision.
8. WHAT IF I HAVE ADDITIONAL QUESTIONS?
Please visit www.babin.house.gov/Harvey for helpful disaster
assistance information. You may also call any of our offices and
speak to anyone on my staff who will be able to answer your
questions or direct you to the appropriate place: Deer Park
(832-780-0966), Orange (409-883-8075) or Woodville (844-303-8934).