- Legislative Recap -
House Votes to Protect Email Privacy and Rollback Last-Minute Obama Regulation
This week, I voted to pass the Email Privacy Act (H.R. 387), bipartisan legislation that updates our privacy laws to give emails the same protection as traditional mail and telephone calls. Under current law, the government can gain access to these emails that are 180 days old or older without a warrant. This much-needed bill will protect your constitutional rights while still providing law enforcement with the tools they need to protect public safety in the digital age.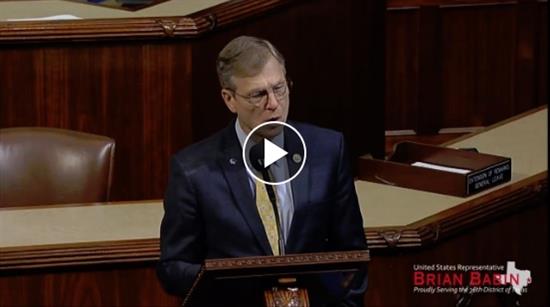 To watch Rep. Babin speak in support of H.J. Res. 44, please click here.

The House also voted to rollback a last-minute Obama regulation that undermines the ability to develop oil and gas resources on public lands. By shifting land management decisions away from states and local communities to a few unelected bureaucrats in Washington, DC, this ill-advised regulation removes local and state input, threatens American jobs and creates unnecessary permitting delays.
Rep. Babin Applauds Senate Confirmation of Attorney General Jeff Sessions and Health and Human Services (HHS) Secretary Tom Price
The confirmation of Senator Jeff Sessions (R-AL) as our nation's top law enforcement officer is welcome news for millions of Americans who have grown frustrated with the direction of the Department of Justice and its failure to uphold the rule of law. Attorney General Sessions brings with him decades of experience as both a prosecutor and U.S. Senator. He is bound by an unparalleled commitment to the rule of law and is exactly the right person we need to restore trust and integrity at the Department of Justice.
Having spent three decades as an orthopedic surgeon and public servant, I also cannot think of a person more qualified and prepared than Dr. Tom Price to lead the Department of HHS. As only the third physician to ever head the agency, Dr. Price's experience in both medicine and public policy is exactly what we need to help address our nation's growing health care challenges. His confirmation marks an important next step in our efforts to rescue the American people from Obamacare and provide relief to the millions of Americans who continue to suffer under this failed law. I look forward to working with my former 'Doc Caucus' member and now Secretary of HHS to repeal Obamacare and replace it with patient-centered solutions that provide Americans with access to quality, affordable care – not costly, government-directed care.



- Important Notice -
Be Sure to Sign Up for Our Next Telephone Town Hall Meeting
I will be hosting a live telephone town hall meeting on Thursday, February 16th, at 7pm CT. We will be discussing the many issues facing our nation and the U.S. Congress. If you would like to participate, please provide your home telephone number by
clicking here
. I hope you can join me for this important conversation.
Snap-shots from the Week
My Legislative Assistant, Mary Moody, and Regional Director of Community Relations, Rachel Iglesias, held numerous meetings this week with health care professionals, hospital administrators and superintendents across the congressional district. Here they are at Consolidated Health Care Services in Newton, Texas. To view more pictures, please
click here
.
It was great to meet with Texas rice producers, including constituents John Gaulding and Ray Stoesser, to discuss the upcoming Farm Bill and trade issues.
My Constituent Services Representative, Will Carter, addressed the Day Of Humiliation, Fasting and Prayer event in Cleveland, Texas. Thank you to all those who joined in prayer for our nation, the City of Cleveland, our elected leaders, and the future of our great country.