Babin: President Trump's Executive Order Will Keep America Safe
- Survey Results Show Strong Support in the 36th District of Texas -
President Trump has begun his presidency doing exactly what he promised the American people he would do – defunding sanctuary cities, deporting criminal aliens and suspending the visa and refugee programs from seven countries that have been well-established as terrorist hot spots. I support the president for delivering on his campaign pledge and taking decisive steps to put the safety and security of the American people first. For nearly two years, I've been pushing legislation that would do many of these same things, and I'm glad we now have a president who has the courage to take action. This past week, we surveyed constituents across the district to see where they stand on this issue, and over 70% agreed with the President's actions.
In response to the misinformation being spread by liberal politicians and the media, I took to the House floor to separate myth from fact and inject a little common-sense into the national dialogue. Liberal activists and politicians are leveling baseless assertions about the President's policy only to see a lazy and complicit media parrot their claims without exercising due diligence to validate it. This is not a "Muslim Ban." The executive order only pertains to seven failed states identified by President Obama less than eleven months ago. There are more than 40 majority-Muslim nations not included on the list. This is a targeted approach to deal with the threat posed by terrorists who operate freely in these failed states and pose a direct threat to the American people.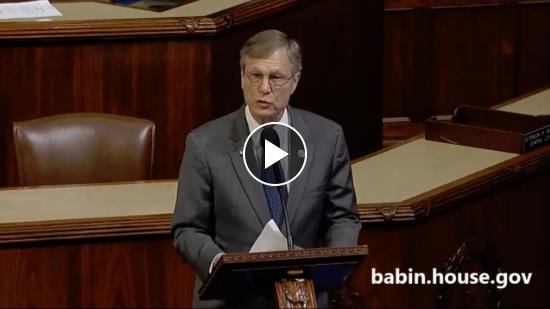 To watch Babin's speech separating myth from fact, click here.

The hysteria surrounding this national security executive order must come to an end. After all, it is temporary in nature and is in line with what many presidents have done in the past. As a compassionate nation, we can and should help refugees. In fact, we can help twelve refugees in safe zones near their home countries for the price of bringing just one refugee to the United States. ISIS presents one of the most extensive and complex threats our nation has ever faced – and the President is simply taking every precaution to make sure Americans are safe.

President Trump Nominates Judge Neil Gorsuch to U.S. Supreme Court
Judge Neil Gorsuch is an outstanding choice to replace the late Justice Antonin Scalia on our nation's highest court. He has demonstrated an exceptional legal understanding and a clear loyalty and commitment to the U.S. Constitution. Throughout his career, Judge Gorsuch has received unprecedented bipartisan support and was unanimously confirmed by the U.S. Senate in 2006 to serve on the Tenth Circuit Court of Appeals. Then-Senators Obama, Biden, Clinton and Schumer were all serving in the Senate at the time and raised no objections to Judge Gorsuch's nomination. The Senate should once again put politics aside and confirm this highly-qualified and respected legal scholar.

Rep. Babin Reappointed Chairman of House Space Subcommittee for 115th Congress
I'm excited to report that I've been reappointed the chairman of the House Space Subcommittee, which has legislative jurisdiction and oversight over NASA and U.S. space policy. As the Congressman for NASA's Johnson Space Center, I believe there is still much work to be done to restore America's human space flight program and I am excited to work with an Administration that believes in a robust U.S. space program. Our human space flight program is an important element in building a brighter future for the American people.





Media Roundup
I spoke with Neil Cavuto on Fox Business to express my full support for President Trump's decision to pause immigration from these seven terror-prone nations. This is not a radical idea. The President's actions will lead to an improved vetting system – and will ultimately save American lives.
I gave my reaction to KFDM Channel 6 News on President Trump's nomination of Judge Neil Gorsuch to the U.S. Supreme Court. Judge Gorsuch is an excellent choice who will adhere to judicial restraint and Constitutional principles. The Senate should quickly approve his nomiantion.
Snap-shots from the Week
While I was in Washington, DC for a busy week of votes, my chief of staff recently held over a dozen meeting across the 36th Congressional District – Livingston, Deer Park, Winnie, Pasadena, Baytown, Mont Belvieu and other areas. He discussed issues with law enforcement, rice farmers, port officials, chambers of commerce, petrochemical plant managers, and local economic development leaders. To view more pictures, please
click here
.
With Tuesday marking NASA's Day of Remembrance, I was privileged to participate in a wreath laying ceremony at the Tomb Of The Unknown Soldier and the Columbia, Challenger, and Apollo I Memorials at Arlington National Cemetery to honor the astronauts who died in these accidents, as well as all the men and women who gave their lives in the quest for human space exploration. To watch a short video from the event, please
click here
.