President Trump Signs Historic VA Accountability Bill Into Law
Makes it Easier to Fire Failing VA Bureaucrats
President Trump signed a bill into law on Friday that will make it easier to fire or demote bad employees who have failed to effectively serve our veterans at the Department of Veterans Affairs (VA). I was proud to vote in favor of this historic piece of legislation in Congress, which will also recoup taxpayer-funded bonuses from those who acted improperly at the VA and expand protections for VA whistleblowers. While most VA employees are trying to do their best, there are far too many bad actors that need to be fired or held accountable. This bill marks a huge win for our veterans and their families. It brings real accountability to the VA and it will help change the culture at the VA to ensure that the interests of our veterans are always being put first. I commend President Trump for his strong leadership in support of our nation's veterans and their families.

Celebrating Juneteenth 2017
On Monday, we celebrated Juneteenth Day – marking 152 years since slavery was ended in Texas. I was proud to submit the following statement in the Congressional Record commemorating Juneteenth, which is the oldest known celebration of the end of slavery.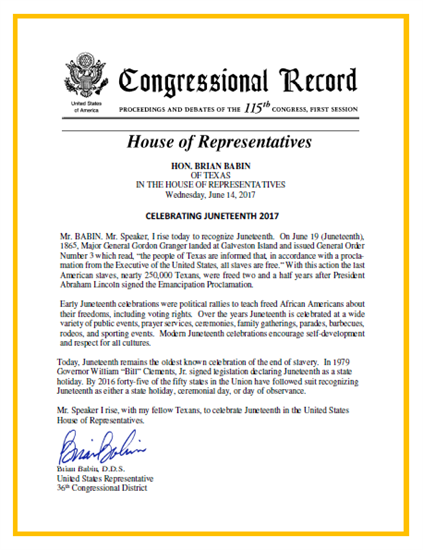 To read the Congressional Record statement, please click here.
Babin Files Bill to Enhance Safety and Protection of Members of Congress
Calls for Immediate Passage of National Concealed Carry Bill for all Americans
This week, I filed legislation to grant properly trained and certified Members of Congress the ability to conceal carry a personal firearm wherever their duties take them. This in addition to my efforts to enable all Americans who have a licensed concealed carry permit holder in one state to carry in another state, including Washington, DC. It is critical that we immediately pass this bill to ensure that all law abiding American citizens have the ability to carry across state lines. After the recent ambush attack on Republicans and the growing number of personal threats to Members of Congress, it is also clearer than ever that we need to take steps to enable lawmakers to protect themselves. We also know that an even greater tragedy was averted only because of the brave actions by two armed Capitol Police special agents who happened, mercifully, to be on site. I believe my bill is a necessary step to ensure lawmakers have the opportunity to defend themselves while they carry out their congressional duties.




Meeting With Texas 36 Constituents
It was great meeting Debra Garlington and her daughter Tatum — a junior at Orangefield High School who will be applying for a nomination to attend the U.S. Naval Academy to pursue her dream of serving in the U.S. Navy.

Enjoyed spending time with the Palmer and Williams families from La Porte, Texas following their tour of the U.S. Capitol.
Very pleased to welcome the Chisholm family from Orange, Texas to our office in Washington, DC.
Babin Reacts to Senate Health Care Bill
While there are some good things in the Senate health care bill, there are many aspects that I simply cannot support. Nevertheless, I'm very encouraged that there is progress and the debate is moving forward. It is absolutely critical that we deliver on our promise to the American people to end the Obamacare disaster – and we have to do it in a way that lowers premiums and deductibles for working class Americans.