An Impeachment Based on Hearsay
Over the last two weeks of public impeachment hearings, House Democrats have paraded 12 "expert witnesses" in front of the House Intelligence Committee and one thing is certain – this entire charade is a complete waste of time.

Allow me to summarize:

Ambassador Bill Taylor
Acting Ambassador to Ukraine
• Testified that he had no first-hand knowledge and never spoke with President Trump.
• Was not on the July 25th phone call between President Trump and President Zelensky.
• Was asked point-blank where the impeachable offense was in the phone call and did not answer.

Deputy Secretary George Kent
Deputy Assistant Secretary of State
European and Eurasian Affairs
• Was not on the July 25th phone call and has never spoken with President Trump.
• Testified that Burisma should be investigated and there was the possibility of a perception of a conflict of interest due to Hunter Biden's position on the board while his father was in charge of Ukraine policy for the Obama Administration.

Ambassador Marie Yovanovitch
Former Ambassador to Ukraine
• Was recalled as Ukrainian Ambassador on May 20, two months before the phone call between President Trump and President Zelensky.
• Testified that she did not have first-hand knowledge about the events being investigated.
• Testified that she had no information about criminal activity.

Lt. Colonel Alexander Vindman
Ukraine Advisor at the National Security Council
• Never had any contact with President Trump.
• Made his own conclusions about the contents of the call.
• Disagreed with calling the President's conduct "bribery."

Jennifer Williams
Foreign Service Aide Detailed to Vice President Pence
• Never raised concerns about the July 25th call to her boss, Lt. Gen. Keith Kellogg.
• Disagreed with calling the President's conduct "bribery."

Ambassador Kurt Volker
Former U.S. Special Representative for Ukraine Negotiations
• Testified that the President never told him the aid would be withheld unless Ukraine launched investigations, and that Ukraine never expressed that investigations needed to be launched for them to get a White House meeting or have U.S. security assistance released.
• Denied that a quid pro quo existed.
• Confirmed that there were legitimate reasons for the aid to be paused that had nothing to do with Ukraine launching investigations, and that security assistance is withheld from time to time for an assortment of reasons.

Tim Morrison
Former National Security Council Aide
• Confirmed there was no mention of conditionality or withholding of aid on the July 25 phone call.
• Did not hear anything on the July 25th call that concerned him.
• Testified that he was never asked to bribe or extort anyone at any time by the President.
• Said the placement of the July 25th call summary on a restricted server was a "mistake."

Ambassador Gordon Sondland
Ambassador to the European Union
• Testified that no one on the planet told him that a quid pro quo with Ukraine existed and that he was never told by the President that there were preconditions on the release of the aid.
• Said that President Trump told him directly that he did not want a quid pro quo.
• Confirmed that the aid was released without the launch of any investigations.

Laura Cooper
Deputy Assistant Secretary at the Defense Department
• Testified that the Trump Administration provided strong support for Ukraine.
• Confirmed that President Trump provided Javelin missiles for Ukraine when President Obama did not.

Under Secretary David Hale
Under Secretary of State for Political Affairs at the State Department
• Testified that he was not aware of any connection between the U.S. security assistance and investigations.
• Confirmed that President Trump provided Javelin missiles for Ukraine when President Obama did not.

Dr. Fiona Hill
Former Top Russian Specialist at the National Security Council
• Never heard directly from the President about withholding military aid for investigations.
• Confirmed that Ukraine received the aid, that they did not launch any investigation into the Biden's, and that President Zelensky met with President Trump.
• Confirmed that President Trump provided Javelin missiles for Ukraine when President Obama did not.

David Holmes
State Department Aide
• Did not immediately tell his boss, Ambassador Taylor, about the phone call he overheard between President Trump and Ambassador Sondland.
• Could only hear President Trump's side of the phone call when the conversation concerned Ukraine; could not hear President Trump during other parts of the call.
• Cannot connect any investigations to the withholding of security assistance.
• Testified that Ukraine did not ultimately launch any investigations and that it did receive the aid.

As you can see, the Democrat majority is basing this entire political circus on testimonies grounded in ABSOLUTELY NO EVIDENCE. It is a shame that the Democrats would rather continue this misguided and partisan witch-hunt than tackle the many critical issues facing all Americans.
The Hypocrisy of the Left on Immigration
I joined Trish Regan this week to discuss the horrific consequences of sanctuary city policies and the hypocrisy of the Left on immigration. Flip-flop Democrats somehow forget that policies in place today were also carried out by President Obama – who at one point was referred to as "the Deporter in Chief."

Republicans Call for Whistleblower and Hunter Biden to Testify
The American people deserve to hear from both the whistleblower AND Hunter Biden. Of course, Rep. Adam Schiff will fight tooth and nail to ensure this never happens! He will do anything to keep Americans in the dark and away from the truth behind this sham.

Speaker Pelosi Continues to Ignore the USMCA
Democrats have made it clear: They are the party of impeachment and nothing else. They are incapable of accomplishing anything to actually benefit American workers and families.

Speaker Pelosi's majority is a disgrace.

FINAL NOTICE: Help Me Get the Word Out
Starting on December 4, 2019, rules established by the House of Representatives will prohibit me from sending folks important national and community news alerts unless they are opted-in to receive my weekly newsletter. If you are reading this, you are already signed up and no further action is required, but if you know someone who needs to know this information please share it with them. I want to keep everyone in the loop as House Democrats continue with phony impeachment proceedings and Congress debates a new spending bill this winter.

Share the link below with others, so they can opt-in before it is too late!

Babin Recognizes the Port of Beaumont for Receiving BUILD Grant
I am pleased that U.S. Department of Transportation (DOT) Secretary Elaine Chao awarded a BUILD Grant to the Port of Beaumont for $18 million. It was a pleasure to work with both Port and DOT officials to secure this extremely competitive and highly sought-after grant.

Read full press release below.





Recognizing National Bible Week
Since Franklin D. Roosevelt in 1941, every U.S. President has declared the week of Thanksgiving to be National Bible Week. Next week, we will once again celebrate the Word of God as it continues to mold the lives of billions, world-wide.

The Bible was perhaps the most accessible book to our Founding Fathers, and its principles gave them valuable insights on human nature, civic virtue, political authority, and the rights of citizens.

Personally, I considered it a great privilege to speak on the House floor about the significance of the Bible as the source of such profound influence on my life. Watch my full speech below.

Breakfast with Pasadena Veterans
It was an honor to visit and eat breakfast with many Deer Park veterans Friday morning. I am always eager to hear from those who have so bravely served our nation and defended the liberties we all hold so dear.

Thank you, Pastor Doug Harris and Central Baptist Church for inviting me to participate.
Team Babin Attends PARSE Event
Beverly Ferguson and Rachel Iglesias, both Regional Directors on my staff, spoke at the Pasadena Area Retired School Employees (PARSE) Veterans Day Program this week. Beverly presented information regarding military records and Rachel discussed the Windfall Elimination Provision and how it impacts Texas educators.

I am proud to be a cosponsor of the Equal Treatment of Public Servants Act of 2019 (H.R. 3934) that will support our hardworking teachers.
Science, Space, and Technology Environmental Field Hearing
Earlier this week, I participated in a Congressional Committee field hearing in Houston, Texas where we examined the future of advanced carbon capture technology research, development, and application.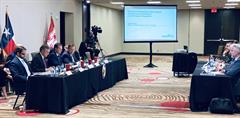 I was joined by Reps. Dan Crenshaw (TX-02), Michael Cloud (TX-27), Randy Weber (TX-14), and Lizzie Fletcher (TX-07).
These technologies are decreasing our CO2 emissions while enabling America to produce fuel with incredible energy efficiency. This is another great example of how the U.S. continues to lead the world in clean, innovative, and efficient energy production – and it is happening right here in Houston!
My Farewell to Secretary Perry
On Monday evening, I joined several of my colleagues on the House floor to bid farewell to Secretary Rick Perry as he retires from an honorable career in public service.

Secretary Perry is the longest-serving governor in Texas history – holding the office for 14 prosperous years. It was a pleasure to know and work with him throughout his tenure as both governor and Secretary of Energy. I greatly appreciate his dedication to our state and nation.
Which Administration Provided Lethal Aid to Ukraine?
In case you forgot – Ukraine waited three years for critical U.S. lethal aid to combat Russian invasions. From 2014-2017, President Obama refused to send Congressionally mandated Javelins to Ukraine. Under President Trump however, Ukraine finally received the military equipment needed to defend themselves against Russian attacks.

So, while the previous Administration provided our ally with blankets in a time of crisis, President Trump has actually sent them the vital weapons they need.

Supporting America's Warriors
My colleagues and I have recently started the Justice for Warriors Caucus where we review the cases surrounding warfighters who have been imprisoned for situations that have occurred in war zones. Last week, I had a chance to visit with Clint Lorance and Derrick Miller who were both part of the "Leavenworth 10." Our troops face extremely difficult decisions when in battle. They must make life or death decisions in intense situations that few can understand. I am proud to have helped these two heroes and will continue to review the cases of others carefully.

.
This Week in American History
Tuesday marked the 156th anniversary of one the most famous speeches in American history, the Gettysburg Address.

The photo above is one of the few surviving photos of President Abraham Lincoln on November 19, 1863. If you look in the center of the photo (below), you see a bearded, hatless man facing the crowd – the President.