Babin Helps Secure $15 Billion in Disaster Funding for Texas
This week, I joined my House colleagues in passing an emergency disaster funding bill that includes $15 billion in direct assistance for Texas flood victims of Hurricane Harvey. The measure includes $11 billion to pay anticipated claims for those with federal flood insurance and an estimated $4 billion for the FEMA disaster relief fund, which will be used to cover direct housing assistance, home repairs, debris removal and public assistance grants.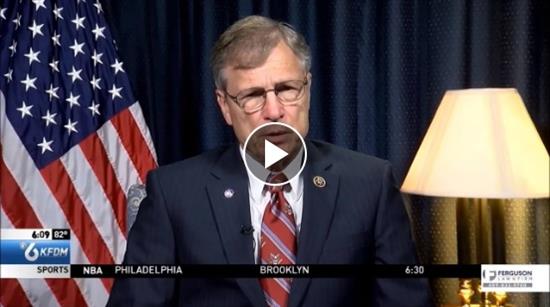 To watch the interview with KFDM News, click here.

This funding bill marks the second installment in critical relief for the people of Texas. I will continue working closely with Governor Abbott, local officials and other members of the Texas delegation to make sure the next bill provides the rest of the funding needed to restore Texas. My top priority is to ensure federal resources are made available for my constituents who are still very much in need of help. This bill delivers billions of dollars in immediate relief to our fellow Texans while holding us over until the complete list of restoration projects are identified for the next funding package needed to help rebuild Texas.

Honoring the Life of Navy SEAL Seth Stone
This week, I spoke on the House floor to honor the life of Navy SEAL Commander Seth Anthony Stone – a native Texan, devout Christian and true American hero who left us far too early on September 30th at the age of 41. Twice the recipient of the Silver Star Medal – our nation's third highest combat award – Seth was among the most highly-decorated Navy SEALs. As a SEAL platoon commander in Iraq during the Battle of Ramadi in 2006, he served alongside my son, Leif Babin, as they led some of the toughest sustained urban combat operations in the history of the SEAL Teams.
About his military service, Seth said: "It was my honor to fight for my country. The best life is one lived as a sacrifice for others. I love my country, and I loved the Teams. That is what drove me to fight so hard for America while wearing a Trident. At the same time, I did not really consider myself to be a SEAL, but a soldier for the Lord." In everything he did and throughout his life, he served the Lord from a place of deep faith. He was a very special person. I was proud to know him and I will be forever grateful for his service to our great country and the friendship and camaraderie he had with my son and all those he served with. While Seth has left us on Earth, his passion for his friends, his country and his Lord will certainly live on and never be forgotten.
Babin Applauds Trump Administration's Actions to Protect Religious Liberty and Restore Common Sense at EPA
Last week, the Trump Administration took an important step in restoring religious liberty protections that were trampled on by the Obama Administration and Obamacare's contraceptive and abortion mandates. It is simply wrong for the federal government to force individuals to violate their deeply held religious convictions. These actions by the Trump Administration mark and important victory for religious liberty.

In addition, I applaud President Trump's decision to restore common sense at the EPA and put America's citizens and jobs first by repealing the so-called Clean Power Plan. This Obama-era policy would have taken money from the pockets of American workers, unnecessarily harmed seniors and those living on fixed incomes and put American workers at a competitive disadvantage – all for little to no benefit to the environment.



Together, We Will Rebuild and Come Back Stronger
For six days, Harvey dumped record amounts of rainfall across our region. The impact was devastating and widespread, but in the midst of this devastation, we have seen incredible stories of bravery, compassion and resiliency. One man, with his own home flooding, took his boat and rescued everyone in his entire community. The people there call him the savior of Rose City. In that same Texas spirit, our office has been working tirelessly to help people get back on their feet. We have been spreading staff out across our nine counties, setting up mobile offices to provide constituents with one-on-one assistance in applying for help and ensuring they have access to a computer.
Nevertheless, many are still in very much need of assistance. This was made clear when over 800 residents recently showed up for our disaster recovery town hall meetings to get their questions answered directly from FEMA, SBA, USDA and other state and federal agencies.
Here are three things that everyone needs to know:
1. The deadline to apply for FEMA assistance is October 24, 2017. Visit
www.disasterassistance.gov
to file a claim.
2. If you're initially denied by FEMA, be sure to file an appeal. Many people do get an initial denial from FEMA for a variety of reasons.
3. You do not have to wait for an inspector to remove debris. But be absolutely sure to document all damage extensively for future reference.
If you run into any problems, please do not hesitate to contact our office. We are ready and eager to help. It is an honor to serve the good people of Southeast Texas. Together, we will recover and rebuild and come back stronger.
Babin Leads Pledge of Allegiance on House Floor
Very proud to stand and lead the Pledge of Allegiance on the House floor and express my support for the greatest country in the world.