Veterans Update

Thank You For Your Service
As we celebrate Independence Day, let us not forget the true cost of freedom. America is the greatest nation on Earth because of those who have sacrificed so much to keep us free and safe. We are truly blessed by God to live in the land of the free – and we are forever grateful to those who have preserved this freedom through their sacrifices in defense of America. As a veteran myself and the father of a decorated Navy SEAL, I have a deep appreciation for the men and women who have served in uniform. In Congress, I am proud to represent over 50,000 veterans that call the 36th Congressional District home. I am committed to seeing that these heroes and their families receive the respect and treatment they have undoubtedly earned and deserve.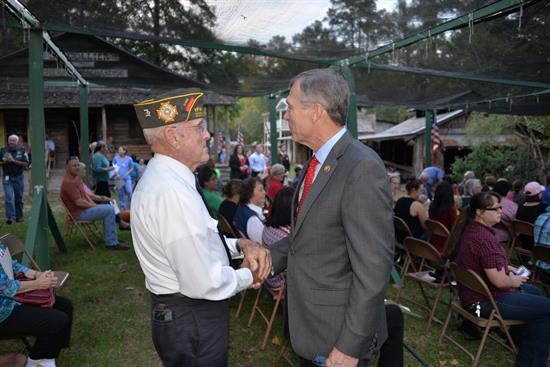 Rep. Babin discusses veterans issues with a local veteran.

The President's budget calls for one of the largest increases in veteran's funding in a decade – making sure we fulfill our promises to veterans. This is a good step forward, but more than the funding increases, the budget would bring greater accountability to ensure each dollar spent better serves veterans. Each year, we hold veterans town hall meetings across the 36th District to bring the Department of Veterans Affairs (VA) directly to our local veterans. Any veteran with a casework issue should immediately call my office for assistance. We have an experienced staff dedicated to serving veterans and advocating on their behalf before the VA.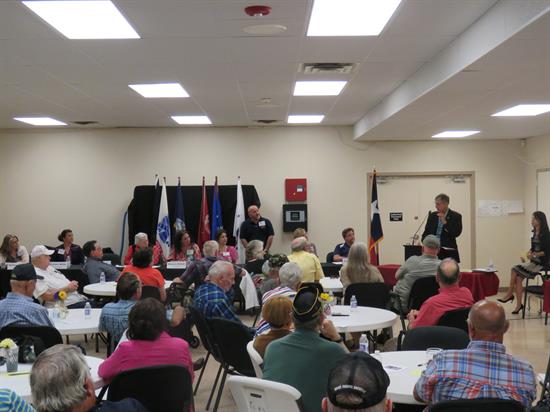 Rep. Babin hosts veterans town hall meeting.

We often hear firsthand from local veterans about the specific problems they face with the VA. That's why I was proud to actively support and help secure the signing of legislation to make it easier to fire VA employees who are failing to properly serve veterans. While most VA employees are trying to do their best to serve veterans, we must do more to change the culture at the VA to ensure veterans have timely access to the services and benefits they've earned. I'm fighting every day in Congress for America's veterans and their families. They deserve the utmost respect and gratitude for their service and sacrifice to our country. To all of our veterans, I say thank you. We owe you a debt of gratitude that is immeasurable.

EXPANDING AND IMPROVING VETERANS BENEFITS AND SERVICES

✔ Provide Full-Benefit COLA Increase for Veterans (H.R. 1259)
✔ Streamline and Modernize Appeals Process (H.R. 2288)
✔ Expand Health Care Access for Elderly Veterans ( H.R. 1005)
✔ Improve VA's care for PTSD and traumatic brain industry (H.R. 1162)
✔ Enhance Timeliness for VA Compensation Exams (H.R. 1725)
✔ Ensure Blue Water Navy Veterans Exposed to Agent Orange Receive Care (H.R. 299)
✔ Prioritize VA Funding for Veterans Not Bureaucrats (Introduced House
Amend. 186)


HOLDING VA BUREAUCRATS ACCOUNTABLE AND PUTTING VETERANS FIRST

✔ Empower VA to fire bad employees (H.R. 1259)
✔ End the Abuse of VA Waitlists (H.R. 467)
✔ Ensure Failing VA Employees are Held Accountable (H.R. 27)
✔Enable Congressional Caseworkers to Better Help Veterans (H.R. 512)
✔ Improve VA's Ability to Hire High-Quality Employees (on H.R. 1367)


IMPROVING ECONOMIC OPPORTUNITIES, JOBS AND WELLBEING FOR VETERANS

✔Boost and Prioritize Veteran Hiring (H.R. 974)
✔Protect Second Amendment Rights of Veterans (H.R. 1181)
✔Allow Veterans to Qualify for Premium Health Care Assistance Tax Credits (H.R. 2372)
✔Enable Veterans to Use GI Benefits for Apprenticeship Programs (H.R. 2551)
✔ Expedite Hiring of Qualified Veterans for Border Patrol Jobs (P.L. 114-68)

MEETING THE NEEDS OF OUR CURRENT SERVICE MEMBERS

✔ Provide Biggest Pay Raise For Our Troops in Six Years (P.L. 114-328)
✔ Fully Fund Troop Training and Readiness (H.R. 5293)
✔ Ensure Robust and Responsible Funding for the VA (H.R. 4974)
✔ Support Full Repeal of Military Sequestration Cuts (H.R. 1441)



Tell Congressman Babin What You Think

Please Call My Office For Veteran's Casework at 832-780-0966

- Constituent Success Stories -

"I am sorry that I haven't thanked you sooner about my situation with the VA. To be honest, I really thought that nothing would be done. Your efforts may not show up in the pages of the history books, nor the headlines of a major news source, but my mother thanks you, and so do I"


—JOE (NEWTON COUNTY)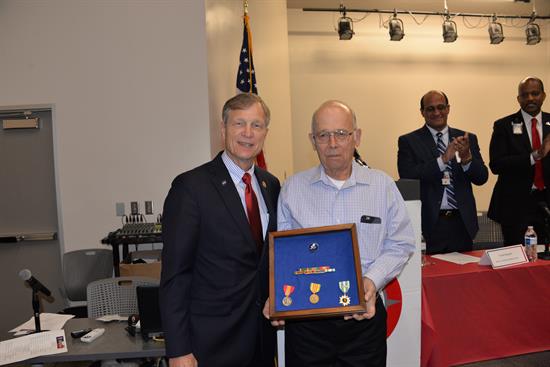 Deer Park vet, Walter Eggers, is awarded Vietnam War medals by Rep. Babin.

"I would like to send you many thanks regarding the facilitation of military personnel records of my Uncle on behalf of my father. I could not have gotten this accomplished so quickly without your assistance."


—JOHN (HARRIS COUNTY)

VA CAREGIVER SUPPORT LINE:

1-855-260-3274
VA's Caregiver Support Line assistance is just a quick phone call away. If you're just getting started with VA, calling the Caregiver Support Line is a great first step to take to learn more about the support that's available to you.