Rep. Babin Joins Nearly 100 Veterans at Breakfast Meeting Organized By Local Community Leaders in Pasadena, Texas
On Thursday, I was privileged to join nearly a 100 local veterans at Pappa Yolk's Grill in Pasadena, Texas for a breakfast meeting organized by Dr. Robert Garcia and other community members. We had a great discussion on a range of issues from veteran's medical care to border and national security. During the event, I also had the honor of presenting WWII and Korean War veterans Robert Lukenbaugh of Deer Park and Raymond Holub of Liberty with Congressional Record statements honoring their service to our nation.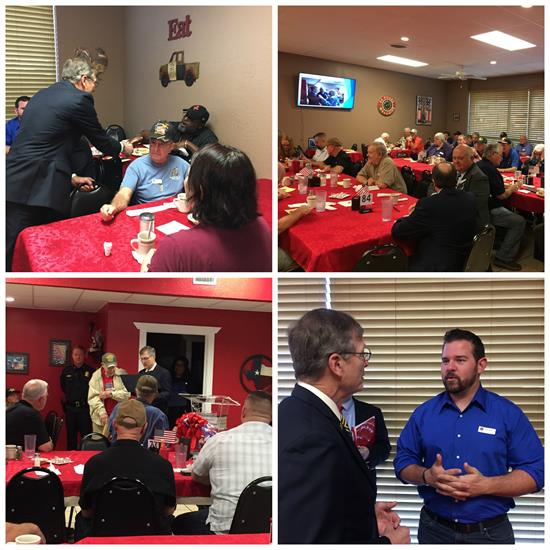 To view more pictures from the meeting, please click here.

As a veteran myself and the father of a decorated U.S. Navy SEAL, the U.S. military holds a special place in my heart and it is a top priority for me to help those who have served. In Congress, I am proud to represent over 50,000 veterans that call the 36th Congressional District home. It is my duty to see that all our nation's veterans receive the respect and treatment they have undoubtedly earned and deserve.

Rep. Babin Talks Jobs With Local Petrochemical Representatives
Petrochemical factories in our area employ tens of thousands of workers in high-paying jobs. It was a pleasure for me to speak with representatives from these facilities about the actions we are taking in Congress and those by the Trump Administration to repeal job-killing regulations and create an environment that helps businesses grow and create jobs right here in America. We also had a productive question and answer session on other issues that impact our local employers. Thank you to East Harris County Manufacturers Association for organizing this important event.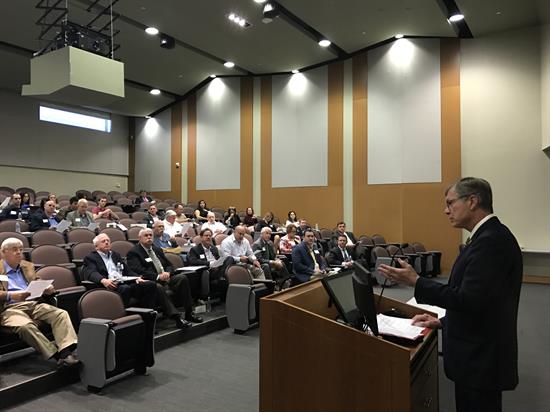 To view more pictures from the event, please click here.




Meeting With Constituents Across 36th District of Texas
Enjoyed talking with Mike Penry of the Cleveland Lions Club. Looking forward to addressing the group very soon.
It was nice visiting with some constituents at Ken's Resturant in Deer Park, Texas.
Had a productive roundtable discussion with Texas Forestry Association (TFA) in Woodville, Texas on the many federal issues impacting our local forestry industry – including tax reform, regulations, and truck access on interstate highways.
SpaceX Successfully Launches Resupply Mission from Historic NASA Pad
Congratulations to the NASA/ISS Commercial Resupply Team on the launch of SpaceX's CRS10 mission carrying 5,500 pounds of cargo to the crew aboard the International Space Station (ISS). This launch is the first commercial launch from KSC's historic 39A launch pad, which was used for the Apollo Moon missions and Space Shuttle. Shortly before the SpaceX Dragon capsule reached orbit, the stage 1 booster of the Falcon rocket had a flawless return to Earth at its landing zone in Florida. Reusability of any part of the space system helps to save program funding – the Space Shuttle Orbiter was a reusable space system, as were its Solid Rocket Boosters.