Babin: Today We Honor America's True Heroes
Today, on Veterans Day, we honor America's true heroes. Those who put country over self – the men and women who have worn America's uniform and answered the call to duty. For without their service and sacrifice, we would not have the freedoms and liberties that we hold so dear. We must never forget that we are the land of the free because of the brave. Please take a moment today to personally thank someone in your life who has served in the military. May God continue to bless the men and women of our Armed Forces and all of those who have served.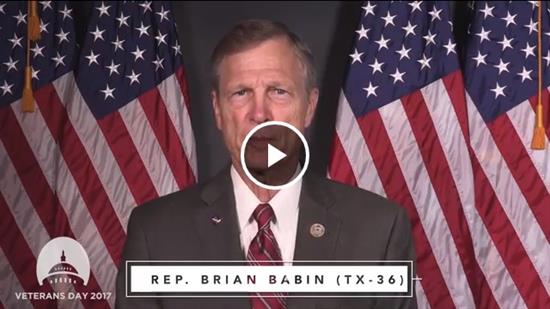 To watch Rep. Babin's Veterans Day Message, click here.

As we celebrate Veterans Day, it is also a reminder that we must do more to better serve and care for our nation's heroes. This week, the House passed a series of bills to help improve the care of our veterans. Among other things, these bills will streamline on-the-job training and apprenticeship programs, protect veterans from financial fraud, improve in-home care for veterans with disabilities, increase access to community transplant centers and expand mental health care services.These bipartisan bills are an important step in upholding our promise to America's veterans.
House Unanimously Passes Babin Amendment to Reform Hydropower Dam Licenses in Southeast Texas to Address Flooding
The House unanimously passed my amendment on Wednesday to reform hydropower dam licenses in Southeast Texas. The people of Texas' 36th District are looking for answers from all levels of government about the terrible floods we experienced in the vicinity of Toledo Bend Lake and Lake Livingston. By giving FERC an expedited path to examine the licenses for facilities in these disaster areas, they can start to answer those questions and make any necessary reforms or changes as soon as possible.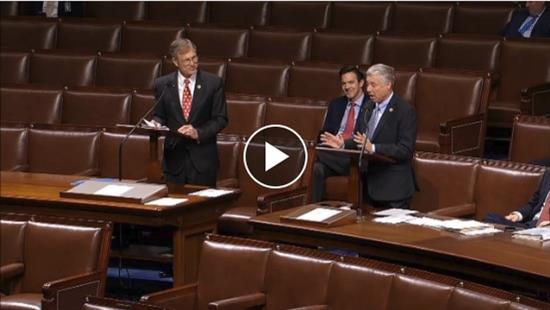 To wacth Rep. Babin speak in favor of his amendment, click here.
Babin Sends Letter to President Trump Requesting Executive Order to Delay Expensive and Disruptive Trucking ELD Mandate
This week, I sent a letter to President Trump with a plan for him to use an Executive Order to delay the Electronic Logging Device (ELD) mandate, and urged him in the strongest possible terms to do so. Millions of hard working American truckers, farmers and small businesses will be affected by this regulation that was written by the Obama Administration but will go into effect this December 18th unless we act.




Snap-shots from the Week
Very grateful to participate in the City of Deer Park's 125th Celebration Concert last weekend and present Deer Park Mayor Jerry Mouton with a Congressional Record statement recognizing the city's 125th anniversary.

We were very pleased to welcome Kim Brown of Woodville, Texas and a group of students she teaches in China for a tour of the U.S. Capitol.

Proud to stand with a group of brave nurses who were forced to act against their deeply held moral convictions and perform abortions just to keep their jobs. This is unacceptable in America. I am inspired by their bravery and applaud them for standing strong with their conscience and convictions. It is exactly why Congress needs to pass the Conscience Protection Act to give victims of discrimination, like these nurses, the ability to defend their rights in court.