House Democrats Shamefully Vote to Formalize the Impeachment Inquiry
On Thursday morning, the Democrat majority voted to formalize the impeachment inquiry that has been ongoing for nearly a month now – proving that these proceedings were illegitimate.

Moments before the vote, I took to the House floor to request that the Speaker conduct a "call of the roll" if we were going to be forced to vote on this shameful impeachment inquiry, but was cut off by the chair.

It's not just the process, it's the substance that's an absolute sham. President Trump was doing his job, ensuring that if taxpayer dollars are going overseas, we expect those nations to crack down on corruption at all levels-no matter who someone's daddy is or what their political ambitions are. But if this disgraceful process was going to move forward, every member of Congress should have had to at least been required to rise – in front of their colleagues, constituents, and the entire nation – and announce their vote on this profound and historic matter.

A Great Day for the World
Last weekend, U.S. Special Forces killed ISIS leader, Abu Bakr Al-Baghdadi. This was a great day for the world, as America continues the fight against terrorism.

A big thanks to all of those involved in this successful operation. Last Saturday, the best of America met with the worst of humanity - and we won.
Demanding Accountability and Transparency for the American People
On Wednesday, I delivered a letter to House Speaker Nancy Pelosi cosigned by 25 of my Republican colleagues requesting that she utilize a "call of the roll" if she made the misguided decision to move forward with a vote on H.Res. 660, the so-called "impeachment inquiry" resolution scheduled for consideration in the House on Thursday.

These bogus impeachment proceedings are nothing but a farce forced on us by the Democrat majority, as a means to the end they have been seeking ever since they lost the 2016 election: the harassment and removal of President Donald J. Trump. But even my colleagues who disagree with me on that should have agreed with what we were trying to accomplish with this letter: accountability and transparency for the American people on this incredibly serious matter and important vote.

Read my full press release below.

Continuing the Fight to Secure our Southern Border
We must keep fighting to secure our southern border and disincentivize people from making the dangerous trek to our country or we will continue to see these astounding illegal apprehension numbers.

If House Democrats will not work with us to fix our broken system and address these problems, this crisis will not end. Unfortunately, it seems their focus is on impeaching the only person that has done anything to reduce illegal apprehensions and protect the sovereignty of our nation.
ICYMI: Additional DRC's Open in TX-36
Several more Disaster Recovery Centers (DRCs) have opened in and around our district. At a DRC you can speak with FEMA, SBA, and state officials about Tropical Storm Imelda disaster assistance. DRCs are open from 7:00 AM to 7:00 PM unless otherwise noted. To find the DRC nearest you, view the list below or visit http://bit.ly/DRCLocator.

Orange County
Orange County Convention and Expo Center
11475 Farm to Market Road 1442
Orange, TX 77630

Chambers County
Winnie-Stowell County Park Rodeo Arena
335 South Park Street
Winnie, TX 77665
(Closed 10/30-10/31 for due to weather)

Liberty County
Cleveland Senior Center
220 Peach Ave.
Cleveland, TX 77327

Jack Hartel Bld.
318 San Jacinto Street
Liberty, TX 77575

Harris County
May County Community Center
2100 Wolf Road
Huffman, TX 77336

Jefferson County
1310 Pennsylvania Ave.
Beaumont, TX 77701
(Closed Sundays)




Babin Discusses Boeing Hearing on 737 Max Crashes
I joined Bulls & Bears on Fox Business this week to discuss the House Transportation & Infrastructure Committee's hearing with Boeing regarding the 737 Max crashes in Indonesia and Ethiopia. While my heart goes out to all of the families who lost loved ones, we should not forget that 5 million people fly safely on Boeing airplanes every single day.

Boeing has taken responsibility for their part in these tragedies and has been cooperative and committed to solving these issues. America is the gold standard when it comes to commercial aviation, and I am committed to ensuring that we maintain that role.
The October Jobs Report
October delivered another big win for the American people.

✓ 128,000 jobs added last month (and more when adjusted for the GM work stoppage!)
✓ Record low unemployment among African Americans
✓ Unemployment remains at a 50-year low

Photos of the Week
Recently, I had the opportunity to meet with several different families from the 36th District while they were visiting Washington.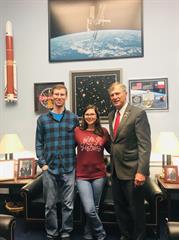 The Hudson Family from Crosby, TX.
It is always a pleasure for me and my staff to speak with constituents and show them around the U.S. Capitol.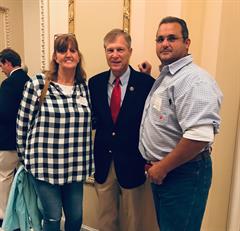 The Theriot Family from Sour Lake, TX.
If you are planning a trip to our nation's capital, please do not hesitate to reach out to my Washington office!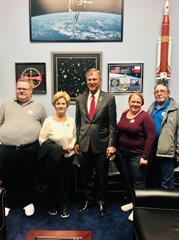 The Swift Family from La Porte, TX.
Enjoying BBQ at Florida's Kitchen
When traveling through Livingston, it is always a treat to dine at Florida's Kitchen – where you can always count on delicious Texas BBQ and good ole southern hospitality!

The Issues Being Ignored by House Democrats
The Do Nothing Democrats have absolutely squandered their majority. They have chosen to spend all of their time, resources, and YOUR taxpayer dollars chasing impeachment instead of:

- Securing the Border
- Passing the USMCA
- Creating a Bipartisan Plan to Lower Prescription Drug Costs

It is clear that House Democrats' ONLY priority is impeaching
our duly elected President.