- Memorial Day Message -
Remembering Those Who Gave All
As we observe Memorial Day, let us not forget the true meaning of this very important day. We are to remember those who sacrificed their lives and gave their all for our freedoms and liberties. As a veteran myself, the son of a WWII veteran, and the father of a highly decorated Navy SEAL, I have a huge appreciation for our military. On this special day, please join me in prayer for those who lost their lives defending America and all the men and women – past and present – who have served. Without their sacrifice, we would not be enjoying the freedoms that we do today.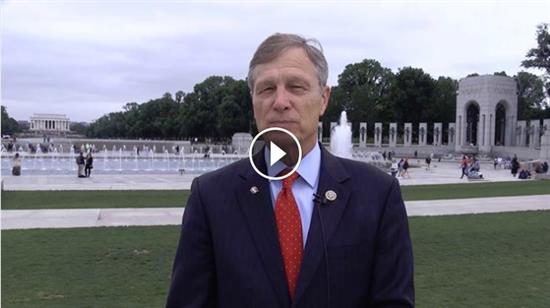 To watch Babin's Memorial Day message, click here.

This week, the House also passed a series of bills to improve the care of our nation's veterans and bring greater accountability to the VA. This includes legislation to streamline the appeals process, end the abuse of wait lists and provide a cost-of-living increase for disabled veterans. In observance of Memorial Day, I was proud to support these bills in an effort to make sure the brave men and women who willingly put their lives on the line to defend our nation receive the respect and treatment they have undoubtedly earned and deserve.
- In Case You Missed It -
Rep. Babin Op-Ed in The Daily Caller: "Manchester Shows Why We Must Do More to Prevent Terrorist Entry into U.S."

Monday's horrific attack in Manchester, England leaves us with another sobering reminder of what is at stake in the evil war that radical Islamists are waging. A 22-year-old radical Islamist, Salman Abedi, the son of Libyan refugees, maliciously targeted and killed pre-teens, teenagers and parents exiting a pop concert. This cowardly act of violence directed at the most vulnerable among us clearly shows the evil we face. Too many of our elected officials still turn a blind eye to this growing danger. Others choose to embrace domestic radical Islamic terrorism as the new reality that we must learn to live with. I am unwilling to accept that vision for America. That is why I am working to stop sympathizers of radical Islamist ideology from entering into the United States.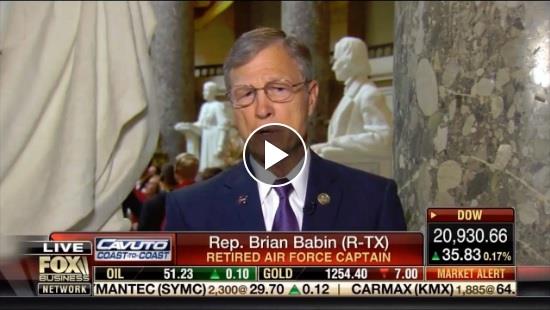 To watch Babin's interview on the Manchester attack, click here.
Two years ago, I introduced the Resettlement Accountability National Security Act to put a complete halt on the refugee program until new vetting procedures are put in place to ensure the program does not pose a security threat to the American people. Since then, I have been working tirelessly to close this gaping hole in our national security. At the start of the new Congress in January, this was the first bill I re-introduced (H.R. 80) – because it is absolutely critical that we address this vulnerability before more innocent Americans are killed. The FBI recently confirmed that of the 2,000 on-going terrorism related investigations, three hundred (15%) involve refugees. Clearly, the current screening program has failed and is leaving Americans at risk. The national security agenda that President Trump and I are pursuing is about putting the safety and security of the American people first because as Monday's attack graphically demonstrates – innocent lives depend on it.



Snap-shots from the Week
Very much enjoyed meeting the Sciarrilla family from Vidor, Texas during their visit to the U.S. Capitol. The family was in town to attend Colby-Jay's graduation from the United States Naval Academy. Congratulations to Colby-Jay and the entire family on this tremendous achievement. We wish him the very best and thank him for his upcoming service in the U.S. military.
It was a tremendous honor and privilege to once again put on my old Air Force uniform and join my fellow colleagues who are veterans for a Memorial Day Wreath Laying Ceremony at the U.S. Capitol. As we observe Memorial Day, we are reminded of the true cost of freedom. May God bless all those who gave their lives in defense of America. To view more pictures from the event, please
click here
.
President Trump Proposes "Taxpayer First" Budget Plan
This week, President Trump put forth a budget proposal that restrains federal spending while prioritizing national security in our military and along our borders. By moving us toward a balanced budget, this fiscally responsible budget plan is a welcome departure from the Obama-years, which had increases in deficit spending every year as far as the eye could see. With a staggering national debt of $20 trillion, it is long past due to stop piling debt on our children and grandchildren. To get our fiscal house in order and put America on a sustainable path, it will require tough decisions. The President's budget is the first step in the annual budget process and I look forward to working with my colleagues in the House and Senate as we draft and consider our own budget plans.