Congress Sends NASA Authorization Act to President's Desk


– Bipartisan Bill Crucial to Johnson Space Center and U.S. Space Program –
On Tuesday, the House approved the NASA Transition Authorization Act of 2017, which now goes to the President's desk to be signed into law. This bipartisan, bicameral bill creates certainty and long-term stability for NASA and America's human space flight programs. It continues support for the International Space Station, the Space Launch System, the Orion crew vehicle, and the commercial cargo and crew programs. In Texas, this legislation will ensure that NASA's Johnson Space Center remains the crown jewel when it comes to providing mission support to NASA's human spaceflight missions.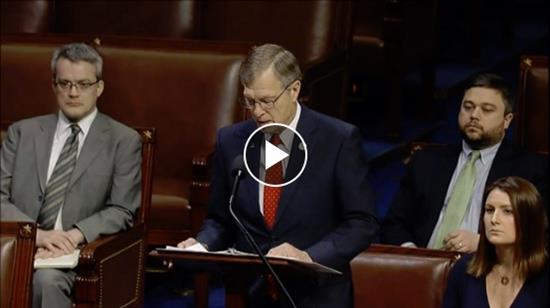 To watch Rep. Babin speak in support of the bill, click here.

I am also pleased to note the inclusion of the TREAT Astronauts Act, legislation that I introduced to ensure that our nation's astronauts receive support for medical issues associated with their service while also advancing research in long-term space missions. I look forward to President Trump signing this legislation into law so that our nation, and the great state of Texas, can continue to extend the reach of humans and commerce throughout our galaxy.
Rep. Babin: My Constituents Want Out of Obamacare
– Shares Their Stories on House Floor –

This week, I heard from nearly 1,000 of my constituents who are overwhelmingly begging me to repeal Obamacare and replace it with a bill that restores health care freedom. I shared some of their stories on the House floor, including Melissa from Harris County who says that she had to switch her family to an HMO plan because of Obamacare's limited choices in her community. This forced her family to leave their doctor of 20 years and their local pharmacy.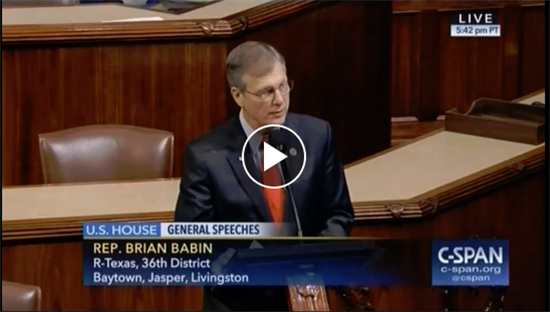 To watch Rep. Babin share stories of constituents, click here.
Gina from Polk County, a hard-working single mother and business owner, told me that she is now forced to use the little bit of money she gets from her tax refund to pay the Obamacare tax. Melinda from Jasper County says she had an Obamacare plan last year and paid nearly $600 a month. She also had a $3,000 deductible. She's had to spend over $10,000 before her health insurance plan pays for anything.
Charlie from Harris County says that he wants me to vote to repeal the individual mandate, stating that Obamacare has forced him to buy a product that he doesn't want. The complaints I'm hearing now are at a fever pitch, and the American people are demanding a change. We need a patient-centered healthcare system driven not by mandates and coercion, but by freedom and choice—for my patients, for my constituents, for my family, and for all Americans.
Rep. Babin Applauds President Trump's Updated Executive Order on Immigration and Vetting
As someone who has been pushing for a suspension of refugees from terrorist hot-spots for over a year and a half, I commend the President and his Administration for issuing a new executive order that further enhances America's national security. This updated executive order will help prevent terrorists from entering the United States while leading to a stronger vetting system. It also closes potential loopholes so that it may not be manipulated by activist federal judges. As elected officials, we have no higher duty than to ensure the safety and security of the American people. I applaud the President for making America's safety a top priority as we cannot allow our refugee and immigration programs to serve as a 'Trojan Horse' threat to the American people.



Meeting With Texas 36 Constituents
Joined over 200 constituents at last weekend's Medical Camp at the Life Restoration Church in Kirbyville, Texas. Doctors from a variety of fields traveled from all over the area to assist patients free of charge. This included vision screenings, dental work, physical exams, lab work, etc. Thank you to everyone who came out to help their fellow neighbors.
Had the pleasure of meeting with a group of folks from the Texas PTA, including Lisa Holbrook from Clear Lake, Texas. Lisa serves as their current president, and is doing a wonderful job at supporting parental engagement in our schools and helping better our public education system.
Met with Texas Rep. Earnest Bailes, Liberty County Judge Jay Knight, Mark Sjolander, BNSF and Union Pacific about regional transportation issues in Liberty County.
Rep. Babin Discusses U.S. and Texas Infrastructure Development
I was on Fox News to discuss the President's proposed infrastructure plan. While America's infrastructure is in desperate need of repair, we must do this is in a fiscally-responsible way that does not add to the debt and ensures these projects are locally-driven – not D.C. imposed.
I joined U.S. Transportation Secretary Elaine Chao and local leaders at the Port of Beaumont for a ship naming ceremony for the Liberty Passion – a U.S-flagged and U.S.-crewed cargo ship that has the capacity to transport 6,500 cars on its 12 decks, including armored tanks and helicopters. As a member of the House Transportation Committee, I'm working to advance the Sabine-Neches dredging project to ensure the Port of Beaumont remains the busiest military port in the world.