Babin Asks Attorney General Sessions to Fully Investigate Potential Unmasking of U.S. Citizens by Obama Administration Officials

- Demands Accountability for Susan Rice and Others -
This week, I sent a letter to Attorney General Jeff Sessions urging a full and thorough investigation into reports of "unmasking" of U.S. citizens by then-National Security Advisor Susan Rice and other members of the Obama Administration. The astonishing reports that senior White House officials in the Obama Administration, most notably then-National Security Advisor Susan Rice, may have abused their powers of office to violate the 4th Amendment protections by 'unmasking' the identities of U.S. citizens involved with the Donald J. Trump presidential campaign in intelligence reports gives great cause for concern. Ms. Rice and any others who may have been involved with these activities should be called to account to explain their actions. If the facts do show that indeed these powers were abused, those responsible should be held fully accountable in a fair, impartial and independent inquiry as that is the only way to assure the American people that their privacy rights are going to be protected now and in the future.
2017 Congressional Art Competition Winners Announced

- Students from Clear Creek, Warren and Woodville High Schools Receive Top Honors -
Our office recently hosted an awards ceremony at the Crosby Community Center to announce the winners and honor those students who participated in the 36th Congressional District's 2017 Congressional Art Competition. This year's competition, which included 80 total entries from high school students across the district, followed the theme of "The Great Outdoors of TX-36."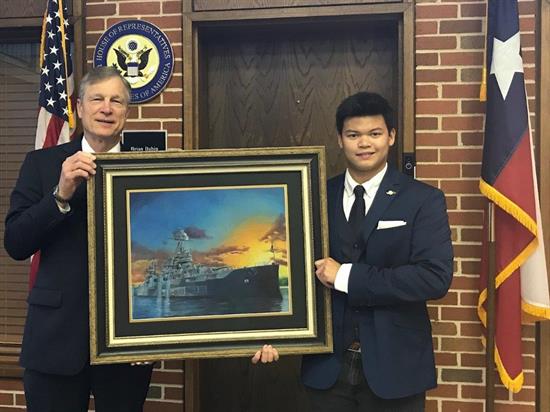 To view pictures from the awards ceremony, please click here.
We are very excited to announce that the first place award goes to Dominic Nguyen of Clear Creek High School for his outstanding painting of the Battleship Texas, which will now be displayed in the U.S. Capitol for an entire year. Second place went to Harley McNeel of Warren High School, and third place to Ezekiel Lee of Woodville High School. A special thank you to all those who participated, as well the art teachers and parents who helped guide their students and children through this process.
Babin Praises Law Enforcement Agencies Involved in Solving the Murder of Chief Deputy Clint Greenwood
My deep appreciation and admiration goes out to all the Texas and federal law enforcement officers who worked so diligently in getting to the bottom of the tragic and senseless murder of Chief Deputy Greenwood. My hat goes off to the Baytown Police Department, Federal Bureau of Investigation (FBI), U.S. Marshals Service, Houston Police Department, Gulf Coast Violent Offenders Task Force, Texas Department of Public Safety (DPS), Texas Rangers, Harris County Sheriff's Department, and Harris County District Attorney. These men and women showed tremendous determination and commitment in their efforts to find this evil perpetrator and deliver justice. While we continue to mourn the loss of another one of our brave Texas law enforcement officers, their hard work and tireless efforts have helped bring healing and closure to the family and the entire law enforcement community.



Wishing You a Very Happy Easter
As we gather together today with family and friends to celebrate the resurrection of Jesus Christ, I pray that God blesses you with a very Happy Easter. On this Easter Sunday, may we never forget God's eternal love and the undeserved sacrifice He bestowed upon us. Today, let us also remember those who are less fortunate and the men and women of our Armed Forces who are serving in faraway lands to keep us free and safe. I hope you have a blessed and meaningful Easter surrounded by the ones you love most.
Meetings With Constituents During April District Work Period
Enjoyed addressing members of the Cleveland Lions Club and answering their questions on health care, Syria, illegal immigration, and much more.
Met with automotive employees in Clear Lake, Texas to learn more about the issues impacting their jobs and the automotive industry.
Met with and addressed over 150 students at Deer Park High School about their studies in government and economics. Very impressed with their questions and passion for solving the many fiscal issues facing our nation.