Dear Friend,
From my family to yours, Happy Thanksgiving
I know things have been tough under the Democrats' rule and that many are worried about the future, but I want to encourage you not to lose hope.
Please know I am fighting tirelessly on your behalf in Washington and refuse to surrender that fight.
I stand firm in my vision of an America that has secure borders, a thriving economy, supports a strong military, backs its police officers, defends the unborn, remembers its founding principles, and believes in the American Dream.
As I contemplate the many issues we're facing, I'm reminded of 1 Thessalonians 5:16-18:
"Rejoice evermore. Pray without ceasing. In everything give thanks: for this is the will of God in Christ Jesus concerning you."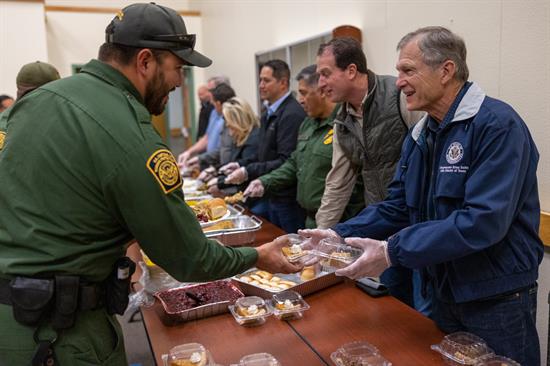 Rep. Babin showed his appreciation to Border Patrol agents in El Paso by serving them an early Thanksgiving meal.
There is no greater country on earth than the United States of America, and I thank God for allowing me to call it my home.
As we enter the season of thanks, I pray you're surrounded by friends and loved ones and ask that you also join me in remembering those bravely serving in our Armed Forces overseas.
I'm grateful for your trust and honored to be your voice in our nation's capital.
May God bless you always – and Happy Thanksgiving!
Sincerely,
Rep. Brian Babin